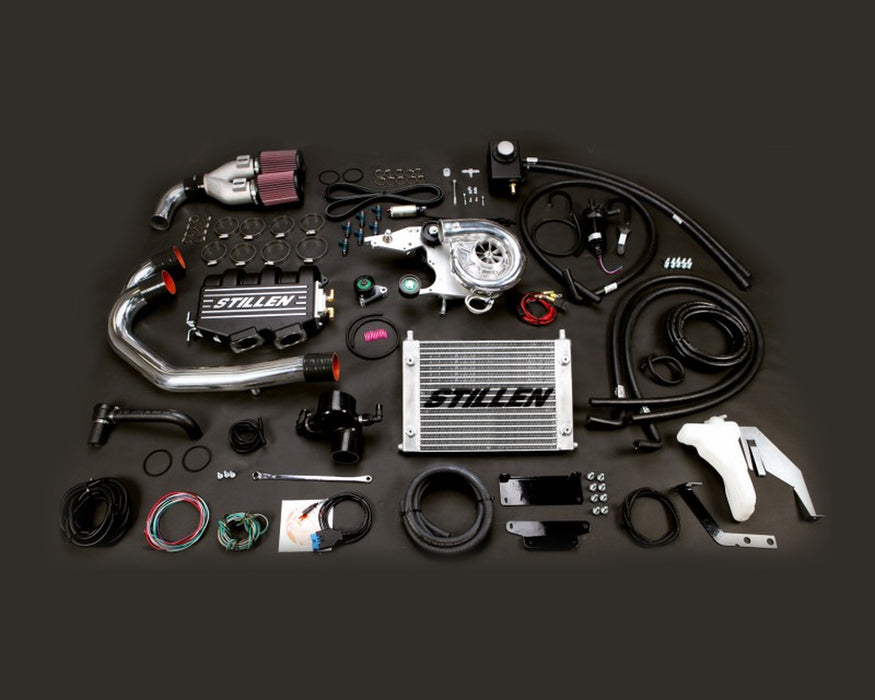 Stillen Supercharger System 14-15 Infiniti Q50 (Polished) *Not For Cars W/ Adaptive Steering*
Original price
$7,947.00
-
Original price
$7,947.00
Stillen is proud to offer the Stillen supercharger system for the Infiniti Q50 14-15 This supercharger system took over a year to develop and involves some revolutionary designs. This supercharger system is developed to offer the customer easy upgradability and installation without requiring a hood replacement to complete the installation. With this supercharger system we bump the power output to over 500 horsepower.
Air to water intercooling is not the only benefit of the redesigned intake manifold. By increasing the runner length we are able to increase torque. Also, the large volume of the intake manifold allows the engine to draw from a much larger (than factory) air source.
This supercharger system incorporates the Vortech V3 self-lubricating supercharger system. With a completely sealed supercharger system there is no concern of having to run additional oil lines or anything like that. Also, the V3 supercharger is a much quieter system than previous models. The major features to the Vortech supercharger are the ease of upgrading power later on, as well as the installation without having to modify the hood
To handle the fuel management for the supercharger system Stillen has gone directly to the ECU. By changing out to larger injectors and fuel pump (supplied in complete kit) Stillen is able to take control of the factory ECU and re-map it for the boosted application. This tuning method is handled via reflash using the UPrev software tuned by Stillen engineers. This supercharger system comes in two options. Either fully tuned (most popular) or Tuner. The tuner kit is supplied with all hardware. There is no tune or tuning software included. Tuning is the responsibility of the end user or the end user???s shop. No warranty is expressed or implied on tuner kits.
WARNING
Detectable amounts of chemicals known to the state of California to cause cancer, birth defects, or other reproductive harm may be found in products or around the facility. (Pro 65)
LEGAL IN CALIFORNIA ONLY FOR RACING VEHICLES WHICH MAY NEVER BE USED, OR REGISTERED OR LICENSED FOR USE, UPON A HIGHWAY