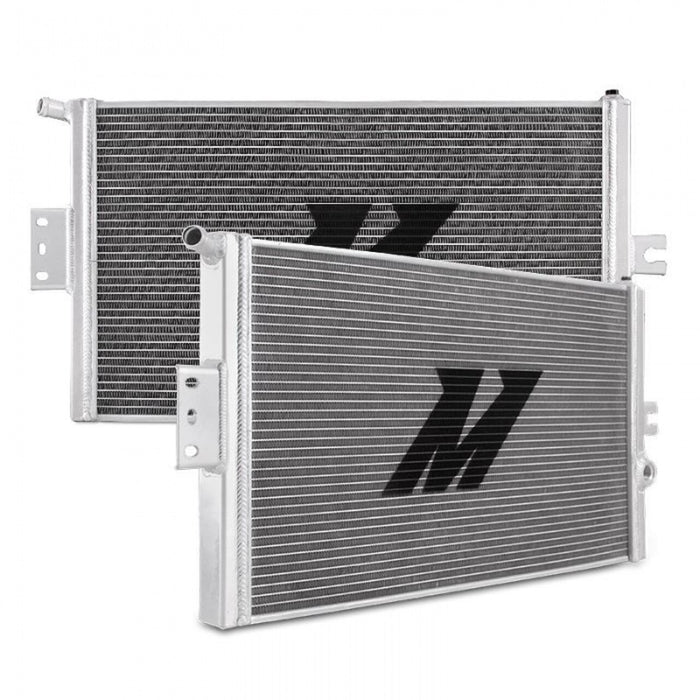 Mishimoto Performance Heat Exchanger for Infiniti Q50/Q60 3.0T '16+
Save

$78.00
Save

$78.00
Original price
$669.99
-
Original price
$669.99
PRODUCT FEATURES
Direct fit for the 2016+ Infiniti Q50 and Q60 3.0T
Full aluminum construction with durable, TIG-welded end tanks
Drops heat exchanger temperatures up to 21°F over stock unit
196% increase in core volume
97% increase in external fin surface area
Removable outlet port for simplified installation
Captive bleeder screw for easy removal of air pockets in intercooler coolant system
Mishimoto Lifetime Warranty
DESCRIPTION
Drop the charged air temperatures in your 2016+ Infiniti Q50/Q60 with the Mishimoto Performance heat exchanger. Air-to-water intercooling is the wave of the future when it comes to modern turbocharged vehicles, but calls for an additional heat exchanger on the front of the vehicle in order to dissipate the heat.

The VR30DDTT equipped in the Q50 and Q60 is quite the performer, but the stock heat exchanger is the weak link in the chain that pulls you along. It's a relatively small core to be dissipating the heat from two individual intercoolers. On top of that, the plastic end tanks that couple the lines to the core bring durability into question over the lifespan of the vehicle.

In our quest to improve the air-to-water intercooling system on your Infiniti, we started by vastly increasing the core size on our Performance Heat Exchanger Design. Our new core design features a 196% increase in core volume and 97% increase in external fin surface area over the stock unit. In addition, our heat exchanger features an all-aluminum, TIG-welded construction for improved durability, as well as a removable outlet port and captive bleeder valve to help with installation.

These improvements over the stock design result in a drop in outlet temperatures up to 21°F and cooler intake air temperatures. The Mishimoto 2016+ Infiniti Q50/Q60 3.0T Performance Heat Exchanger also includes the Mishimoto Lifetime Warranty for a worry-free installation.
PURCHASE INCLUDES
(1) Performance Heat Exchanger
(1) Hose Extension
(1) Outlet Fitting
Mounting Hardware
Mishimoto Lifetime Warranty