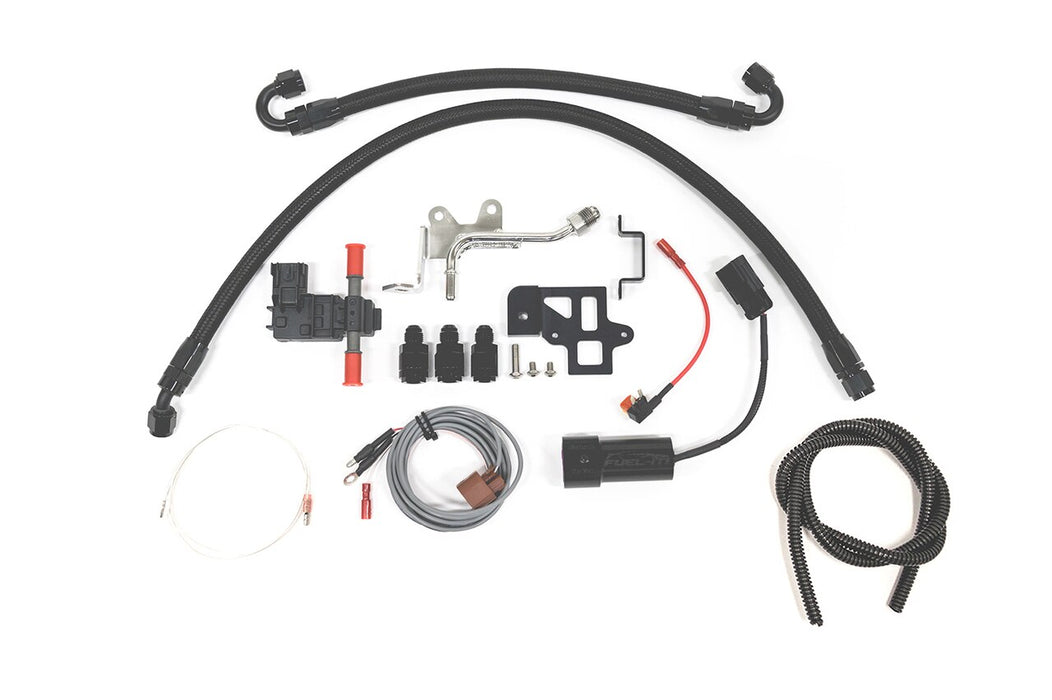 AMS Performance Q50 Q60 Red Alpha Flex Fuel Kit
Original price
$529.95
-
Original price
$529.95
Benefits : 
Full kit allows user to run any fuel or mixture of fuels from 93 octane to E85
The upgrade kit is available for customers that purchased the original kit
Anodized CNC machined aluminum bracket secures the flex fuel sensor
Uses race grade AN fittings
The last piece to the Q50 Q60 VR30 Red Alpha fueling system
Can be paired with the Red Alpha Low and High Pressure fuel pumps
Includes stainless steel bracket and fuel line connector
Includes all necessary fuel lines
No permanent modification to vehicle required
This is a bolt in component using basic hand-tools for a quick install
All required hardware included in the kit
Attaches to OEM bolting locations in the engine bay
A Flex Fuel tune update is necessary to run this system
Update: Now with EcuTek Integration! Run race gas (E85) straight from the pump! With the Red Alpha Flex Fuel Kit you can run fuels or any mixture of fuels with an ethanol content rating from 93 octane to E85.
Our flex fuel system's ethanol sensor and electronics instruct your vehicle's ECU on how to adjust parameters like fueling, boost, and timing to produce the most power possible for a given fuel. These adjustments happen seamlessly in the background of your Red Alpha Tune allowing the user to be flexible with what fuel they utilize in their vehicle. This is an install it and forget it flex fuel system. The complete kit includes the Fuel-it Bluetooth module, ethanol sensor, and hardware. It's a direct plug and play with ECUTek (wiring harness included) and AMS was part of the ECUTek's beta program, so we're intimately familiar with all the updates.
Be the first to the finish. Be the Alpha. Order your Q50 Q60 Red Alpha Flex Fuel Kit today!
Applications
---
2017+ INFINITI Q60 with VR30
2016+ INFINITI Q50 with VR30
Uses all aluminum quick connect fittings
Uses all race grade black nylon coated E85 compatible -6AN hose
Uses SAE to -6AN adapter fittings are mechanical locking, no plastic clips to fail.
No plastic Bundy fittings used
No rubber hoses with hose clamps
Fuel-It Android/Apple app sold separately
WARNING: By purchasing this Flex Fuel Kit you confirm that you have read and understand the following: WARNING/DANGER: SERIOUS RISK OF FIRE, EXPLOSION, BODILY INJURY INCLUDING RESULTING DEATH, AND ENGINE, VEHICLE, AND OTHER PROPERTY DAMAGE. THIS FLEX FUEL KIT MUST BE INSTALLED AND REMOVED ONLY BY A QUALIFIED MOTOR SPORTS TECHNICIAN. THE TECHNICIAN ALSO MUST BE TRAINED IN HOW TO INSTALL AND REMOVE THIS KIT FROM THIS SPECIFIC VEHICLE. THE TECHNICIAN MUST NOT PARTICIPATE IN ANY ACTIVITY THAT WOULD BE CONSIDERED A CATALYST FOR IGNITION WHILE INSTALLING OR REMOVING THIS KIT AND MUST READ THE INSTALLATION INSTRUCTIONS BEFORE INSTALLATION OR REMOVAL.